Silent Generator Hire
We have all at some time seen an old generator offering electricity in an emergency, shaking like an old car with the insufferable loud mechanic hum. It can be difficult for a child to catch some sleep, or interfere with the enjoyment of the guests at an event. The solution to this is to acquire a silent diesel generator. A silent generator offers the perfect solution for weddings and other events where noise can be a problem. Silent generators are also popular with camping sites and for emergency domestic power solutions.

A silent diesel generator is often designed with safety in mind. It consists of three major built-in safety features. The major ones include the spark and a resistor. They ensure that the generator is protected against sparks which may cause explosions, which may significantly damage the generator and potentially become a major hazard (and undoubtedly spoil the event). It is also supplied with a cover which is meant to protect the generator against extreme weather conditions.

Longevity
A silent generator has the ability to run for long hours with improved fuel economy.
Convenience
All of our generators are compact enough to be towed on a trailer for maximum mobility.
Low Noise Output
Ideal for sensitive events such as weddings as the generator will not distract the guests.
Corporate Events
If you are organising corporate campaigns, our generators are available for long-term hire.
Easy to Use
Our generators are straightforward to use, our engineers can provide instructions if required.
Versatility
We have a range of generators which can help power events of all sizes.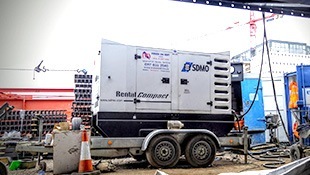 If you have access to land power, you should consider using this for your outdoor wedding. You will require extension cables that connects the indoor and outdoor power outlets. You need to ensure that there aren't too many extension cables across the as they quickly become a hazard in their own right.
However, avoid plugging in everything on an electrical strip. Extension cables should not be overloaded. Overloaded cables will overheat causing significant problems during the event.